Freightliner Northwest & Western Star Northwest recently attended the Oregon Logging Conference at the Lane Events Center in Eugene, OR.
The Oregon Logging Conference (OLC) assists forestry professionals in their pursuit of professional development through offering educational seminars, exhibits, and panel discussions focused on forestry-related topics and concerns. The final day of the event showcases the logging industry to the public. According to the OLC, over 12,000 industry professionals and general public attended the 79th annual conference in 2017.
The Gordon Truck Centers, Inc. dealership family has attended the OLC for the last several years and it is a great opportunity to show what Freightliner and Western Star have to offer customers in the logging industry. Visitors of the OLC were able to get an up-close look at GTC's Freightliner Northwest and Western Star Northwest equipment which featured the 4 axle Freightliner 122SD and Western Star 4900SA. Both trucks provide a tough, rugged platform to get the job done in any logging environment! In addition to the two log trucks, the display showcased the Freightliner 114SD and Western Star 4700SB vocational chassis in dump truck configuration.
In the center of the Freightliner Northwest & Western Star Northwest exhibit was a Detroit Diesel DD15 engine and after-treatment system. This display gave visitors an opportunity to view an engine outside of the truck and it took center stage during the free Detroit Diesel Technology seminar attended by 75 loggers and lead by Corporate Training Instructor, Clint O'Neill. Freightliner Northwest and Western Star Northwest proudly represented not only the market-leading Detroit engine platform but also the dealership family's available training resources to help customers stay up to date on advancing engine technology.
"I was very happy with this year's turn out. I had a great time talking to folks and answering questions along the way. If you haven't been to the OLC make time to attend next year! This is a great event and a way to see some really cool exhibits. Outdoor enthusiasts outside of the logging business would enjoy the OLC," said Clint O'Neill, Corporate Training Instructor.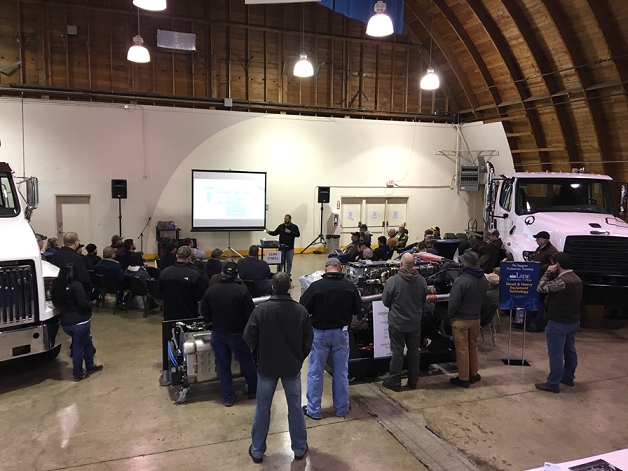 For more information about Oregon Logging Conference including the dates for 2018, visit www.oregonloggingconference.com.
Looking for a new truck? Visit the Freightliner Northwest inventory page to browse the selection!