As part of our re-branding initiative, we are excited to announce the official launch of FreightlinerNorthwest.com and WesternStarNorthwest.com.
For Immediate Release
Pacific, WA – February 10th, 2017 – The GTC Dealership Family has announced the launch of two new company websites. The goal of the launch is to consolidate our online sales and marketing efforts under the Freightliner Northwest and Western Star Northwest brands and provide visitors with easy access to product and service information as well as company and location specific information. As part of the launch, ValleyFreightliner.com and Pac-truck.com will be permanently redirected to the new websites.
SITE HOMEPAGES & ADDRESSES

NAVIGATION & CONTENT
The websites are designed to provide a simple, user friendly experience that is responsive to different browsers and screen sizes for convenient viewing of content on desktops, tablets or smart phones.
Current and prospective customers can easily access information about our sales and service network under locations as well as available services under the static navigation found at the top of every page. Location pages list the physical address, directions, as well as contact information, hours of operation, driver amenities, services available, location specific truck inventory and management contact information.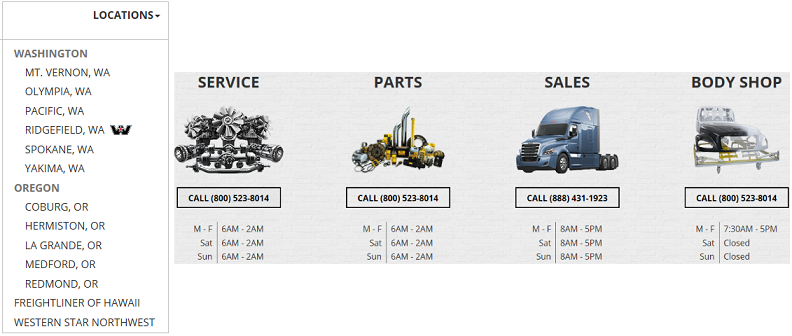 The inventory pages under the trucks tab allow customers to narrow their search to their specific needs or view from a broad range lens. The trucks tab also features new inventory model spec pages to give descriptive overviews of the vehicle to help customers better understand the product they're interested in purchasing. In the same menu, customers are able to quickly send correspondence to the sales team if they are looking for a specific vehicle by using the truck finder option.

The service and parts tabs feature department amenities and capabilities as well as, training, body shop, elite support, department contacts, and special offerings.
NEWS AND CAREER OPENINGS
The about sections display company information, available job opportunities as well as benefit summaries and a link to the news blog.
Company social media buttons for Facebook, Twitter and LinkedIn are displayed on bottom of the FreightlinerNorthwest.com site to further stream information to customers. The GTC Dealership Family will continuously update content with helpful information, articles, blogs, company announcements and events.
About Gordon Truck Centers, Inc.
Built upon a 30 year history of helping customer satisfy their transportation needs, Gordon Truck Centers, Inc. is an expanded network of dealerships doing business as Freightliner Northwest, Western Star Northwest, and Freightliner of Hawaii. The Dealership Family has 12 locations throughout Washington, Oregon and Hawaii. As a full-service Freightliner, Western Star, Fuso, Wilson Trailer, Reitnouer Aluminum Trailer dealership family, GTC can sell, finance, insure and service commercial trucks for medium and heavy duty applications.
Contact
For further information, please contact:
Haley Becklund | Marketing Manager | marketing@gordontruckcenters.com
Visit the New Sites!
www.FreightlinerNorthwest.com   |   www.WesternStarNorthwest.com