Members of the DTNA learning and development team visited fleet and dealership partners in effort to better understand their unique business needs.
For Immediate Release
February 15th, 2019 – Coburg, OR – Chryssa Hunlock, District Service Representative for Daimler Trucks North America (DTNA) hosted four DTNA employees on their first trip to visit two fleet partners, Tradewinds Transportation LLC and Leavitt's Freight Service, Inc. and the Freightliner Northwest dealership in Coburg, OR. A first of its kind visit inspired by the Elite Support principle "Go See," the experience highlighted the challenges and needs of the fleet customers as well as the strengths and improvement opportunities at the dealership level.
The DTNA team studied the fleet and dealers to familiarize themselves with the businesses and prepared questions for their visit. During their time at each location, the team had the opportunity to interview all organizational levels including fleet owners, maintenance, managers, dispatch, driver services, technicians, driver and on the dealership side, the service advisors, parts manager, foreman, technicians and salesmen.
At the fleet partner level, discussions were focused on combating the driver shortage and increasing driver comfort as well as specific fleet needs for each business application. Some of the fleet concerns included lacking timely service communication, parts availability and warranty struggles. The DTNA visitors took away constructive notes and action items to assist with both driver retention and uptime.
At Freightliner Northwest, the DTNA group and dealership spoke about the challenges with technician acquisition and retention as well as parts availability and training support. As the face of the business for both the dealership and DTNA, service advisors work with angry drivers, needing to know about their truck repairs, technology, and warranty information as quickly as possible. The visit was productive and allowed the DNTA team the opportunity to hear frustrations, document improvement takeaways such as a need to increase the support of service advisors. Overall, the common theme between dealer, fleet and DTNA was that all involved must be stewards to create the next generation of drivers and technicians.
In service, there are things we have little control over, like parts shortages. But what are we doing to address our fleet partners' biggest challenge: to find and keep drivers happy? What are we doing to help our dealership partners address their biggest challenge: to find and keep technicians? And who is the real face of Daimler to the fleet? The Service Advisor – respecting drivers' time, and keeping fleets informed. What are we doing to help them?          Chryssa Hunlock, DTNA-DSR
The DNTA team left the experience recommending future visits to locations outside of the corporate region as well as creating a more tailored program to continue collaboration between the customer, dealer and DTNA. It is important for all sides of the truck to understand the down-stream impact of different changes and challenges. "We must all be truck people. We must all understand and be interested in trucking in order to have empathy. So much of what we rely on in our daily lives is supplied by trucks." – DTNA visitor notes
This event is a great example of both DTNA, and our Dealer Family's commitment to our customers and the principles of continuous improvement.  This event is the embodiment of several lean principles such as, "Go and See" and "Imagine you were your customer." We are very proud to have been involved in the pilot and to be given the opportunity to work directly with DTNA and our customers on improving our industry.          Sean Bolan, Dealer Family Continuous Improvement Coordinator
Freightliner Northwest is proud to have partnered with Daimler Trucks North America on the Day in the Life, Field Experience Pilot and thank the DTNA team for including the Coburg dealership.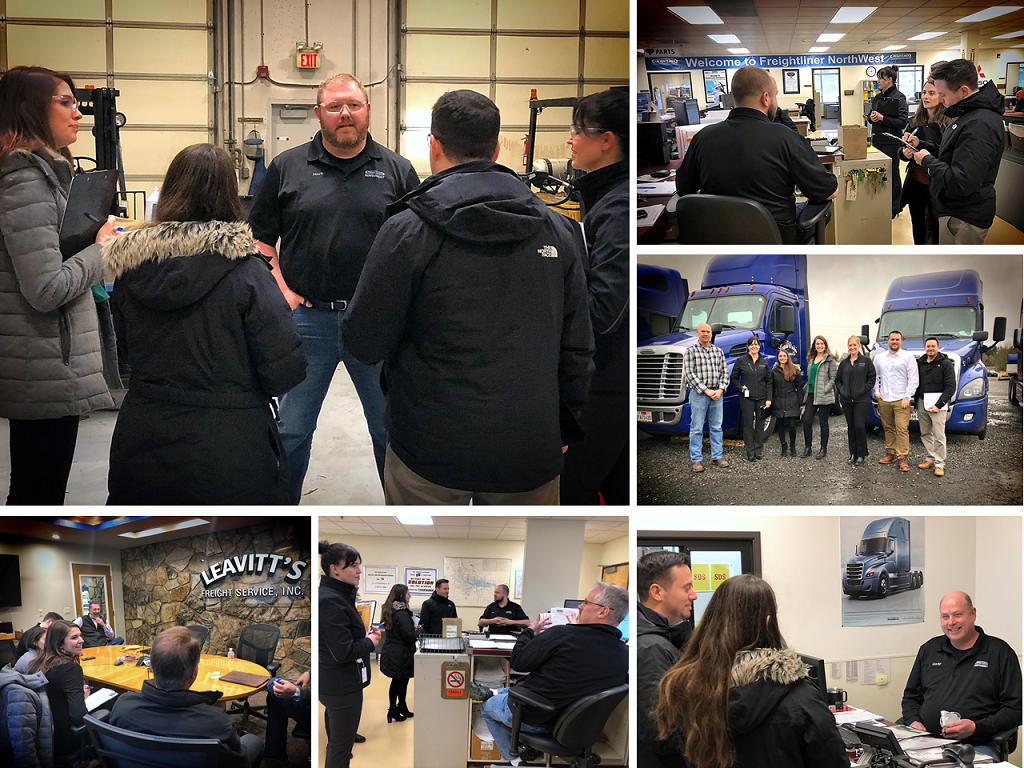 About Gordon Truck Centers, Inc.
Built upon over 30 years of helping customer satisfy their transportation needs, Gordon Truck Centers, Inc. is an expanded network of dealerships doing business as Freightliner Northwest, Western Star Northwest, and Freightliner of Hawaii. The Dealership Family has 12 locations throughout Washington, Oregon and Hawaii located off nearly every major highway. As a full-service Freightliner, Western Star, Fuso, Wilson Trailer, Reitnouer Aluminum Trailer dealership family, GTC can sell, finance, insure and service commercial trucks for medium and heavy-duty applications.