Rogue Community College invited high school students with an interest in diesel, electronics, health occupations, math, manufacturing, technology and welding to come together for the 2019 STEMtathlon on March 7th, 2019.
For Immediate Release
March 7th, 2019 – Medford, OR – Freightliner Northwest's Medford team joined the Rogue Community College for their 2019 STEMtathlon in White City, OR. Local high school students participated in industry related activities and were treated to prize drawings, a catered lunch, ice cream social and educational presentations.
The STEMtathlon learning experience introduced high students to Career Technical Education (CTE) and science, technology, engineering, and math (STEM) careers through hand-on workshops, department tours, fun activities, presentations, career planning and opportunities to participate in individual team events.  Students were split into groups based on interest. FNW-Medford Foreman, Andrew Dorman hosted the Diesel Technology activities including basic diagnostic troubleshooting on a new Western Star.  The group also helped build a motorized vehicle fully equipped with an air seat and functioning lights.
"STEM & CTE programs are a vital part of our industry to support them is a win/win not only for our community but industry as a whole," said John Edwards, Regional Operations Director. "We are proud to partner with RCC and give potential future students a look into our industry."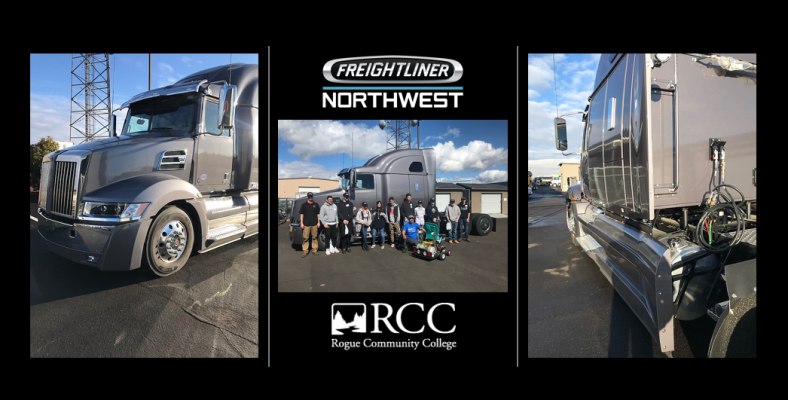 Would you like to have us participate in an event for diesel education? Please contact hr@gordontruckcenters.com for availability.
About Gordon Truck Centers, Inc.
Built upon over 30 years of helping customer satisfy their transportation needs, Gordon Truck Centers, Inc. is an expanded network of dealerships doing business as Freightliner Northwest, Western Star Northwest, and Freightliner of Hawaii. The Dealership Family has 12 locations throughout Washington, Oregon and Hawaii located off nearly every major highway. As a full-service Freightliner, Western Star, Fuso, Wilson Trailer, Reitnouer Aluminum Trailer dealership family, GTC can sell, finance, insure and service commercial trucks for medium and heavy-duty applications.