Freightliner Northwest hosted a diesel technology career education night for parents of High School students in partnership with Daimler Trucks North America, Redmond High School and Stinger Transportation.
For Immediate Release
Redmond, OR – May 20th, 2019 – Freightliner Northwest (FNW) organized a night of learning for parents in the Redmond community to explore career opportunities available for their students. FNW's Brian Nicol, Kim Betts, and John Edwards were joined by Daimler Trucks North America's, Chryssa Hunlock, Universal Technical Institute's, Trisha Stickler, Stinger Transport's, Ron Cholin, and were supported by Redmond High School automotive instructor, John Stroup for a focused discussion about careers in transportation and diesel technology.
A night where a Manufacturer, a Repair Facility, a Fleet Customer and an Educator come together to send the message that diesel needs employees. As the first ever Parents' Night, it was what I would consider great success. Thanks for including me in this great event!    Chryssa Hunlock – Daimler Trucks North America
The Bureau of Labor Statistics predicts the trucking industry will need an estimated 67,000 new technicians and 75,000 diesel engine specialists by 2022.
Transportation and the Diesel Industry are such an integral part of our daily lives, yet many people don't recognize just how much goes in to getting the food they eat to their table or the clothes that they wear to the store to purchase.  When you share about the process, you are opening doors to what may be a very successful and lucrative career that someone might not have explored otherwise.  In order to keep our economy moving, we have to find new ways to recruit people into our industries and if we piqued the interest of just one person, then this night was a success.    Kim Betts – HR Generalist, Gordon Truck Centers, Inc.
Freightliner Northwest is committed to educating future generations of the stable and rewarding careers available in diesel technology. Students who pursue a career in diesel technology can expect to find secure jobs, competitive salaries, and engage with the latest emerging technologies such as automation.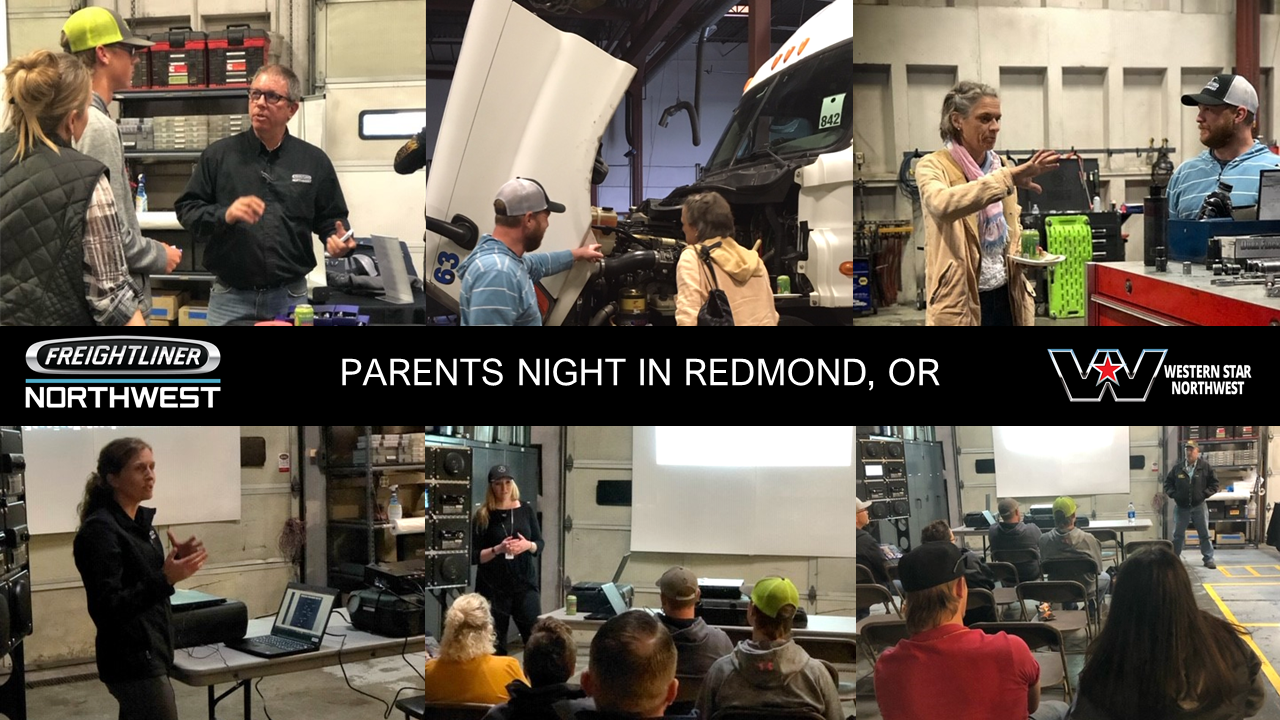 Students or parents of students interested in a diesel technology career are welcome to reach out to HR@gordontruckcenters.com for more information. Stay tuned for future events in your area.
About Gordon Truck Centers, Inc.
Built upon over 30 years of helping customer satisfy their transportation needs, Gordon Truck Centers, Inc. is an expanded network of dealerships doing business as Freightliner Northwest, Western Star Northwest, and Freightliner of Hawaii. The Dealership Family has 12 locations throughout Washington, Oregon and Hawaii located off nearly every major highway. As a full-service Freightliner, Western Star, Fuso, Wilson Trailer, Reitnouer Aluminum Trailer dealership family, GTC can sell, finance, insure and service commercial trucks for medium and heavy-duty applications.