The Washington State Potato Commission has partner with local groups to help with potato donations and their path is leading them to a donation event on June 2nd at Freightliner Northwest in Olympia.
Washington State potato growers have been donating excess potatoes which would typically be used in the restaurant industry. With many establishments closed due to the COVID-19 crisis, the growers hope to help those in need and do not want the excess potatoes to go to waste.
Processing potatoes should be expected to have a few blemishes and will likely come in a variety of shapes and sizes. Potatoes will be bagged and can be loaded directly into visitor vehicles. All potatoes will be first come first serve. For more information on Washington potatoes, visit www.potatoes.com
Freightliner Northwest is located at 13232 Case Rd SW Olympia, WA 98512. To avoid traffic, visitors should use the following:  from Northbound I-5 take Exit 95, from Southbound I-5 take Exit 99 (93rd Street). Visitors are asked to remain in their vehicle and follow the directional signs leading to the donation site.
The cost associated with the donated potatoes is approximately 7 cents per pound to wash, bag and transport a load of potatoes.  The Washington State Potato Commission has set up a GoFundMe page to help with the costs of these giveaways.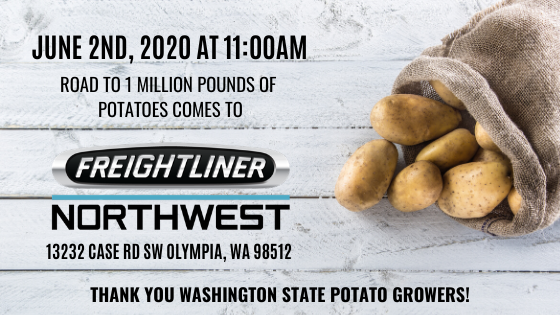 About Gordon Truck Centers, Inc.
Built upon over 30 years of helping customer satisfy their transportation needs, Gordon Truck Centers, Inc. is an expanded network of dealerships doing business as Freightliner Northwest, Western Star Northwest, and Freightliner of Hawaii. The Dealership Family has 12 locations off nearly every major highway throughout Washington, Oregon and Hawaii. As a full-service Freightliner, Western Star, Fuso, Wilson Trailer, dealership family, GTC can sell, finance, insure and service commercial trucks for medium and heavy-duty applications.