FNW, Universal Technical Institute Alumni led future techs through the Freightliner Northwest shops and dealerships, giving students an up-close view of opportunities in diesel technology.
For Immediate Release
Medford, Ore. – April 2019 – Freightliner Northwest (FNW) has hosted future tech nights in several locations throughout the dealership family including Pacific, Mount Vernon, Ridgefield, Spokane, Wash. as well as Redmond, Ore. Most recently, the future tech nights took place at FNW's Coburg and Medford, Ore. branches and were led by Universal Technical Institute (UTI) Alumni and now FNW employees, Caleb, Kevin, and Joe. FNW's UTI alumni were joined by recruiters Kim Betts and Jennifer Eek, as well as John Edwards (Regional Operation Director), Colin Haigler (Service Manager), Corky White (Shop Supervisor), Santiago Huizar (Shop Foreman), and Travis Green (Service Manager).
During the future tech nights, students were shown a candid, authentic representation of diesel technology opportunities and how to reach their goals. They were able to ask questions of the professionals as well as explore the dealership's trucks in service, shop areas, and the computer systems used to support diagnostics and repair.
Diesel technology is becoming more advanced every day. It is not all just nuts and bolts anymore. It is important to keep up with new product changes and new technology. Working for a dealership such as Freightliner Northwest will allow you access to the best factory training through Daimler Trucks North America to help you further your education and advance in your career as a technician. – Santiago, FNW Shop Foreman
The Bureau of Labor Statistics predicts the trucking industry will need an estimated 67,000 new technicians and 75,000 diesel engine specialists by 2022.
There is a national shortage and crisis to find diesel technicians along with many other trade services, even though diesel technology provides a secure, profitable career. Students who pursue a career in diesel technology can expect to find secure jobs, competitive salaries, and engage with the latest emerging technologies such as automation.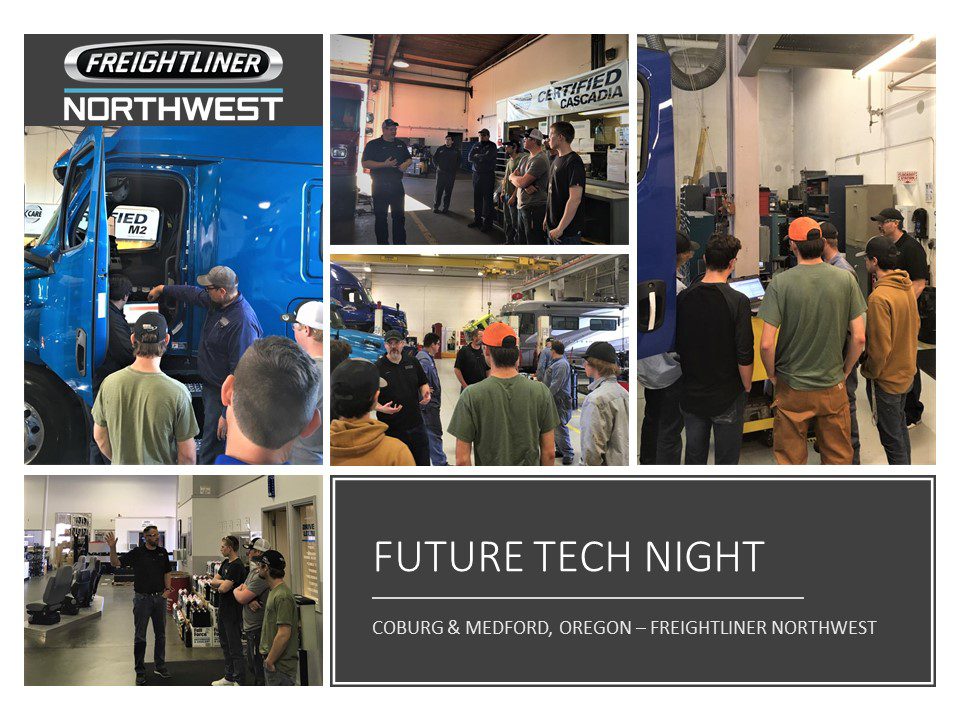 The FNW team is looking forward to reconnecting with these students at the Sacramento & Avondale UTI campuses this upcoming fall. Students interested in a diesel technology career and wish to speak with one of our UTI Alumni are welcome to reach out to HR@gordontruckcenters.com for more information.
About Gordon Truck Centers, Inc.
Built upon over 30 years of helping customer satisfy their transportation needs, Gordon Truck Centers, Inc. is an expanded network of dealerships doing business as Freightliner Northwest, Western Star Northwest, and Freightliner of Hawaii. The Dealership Family has 12 locations throughout Washington, Oregon and Hawaii located off nearly every major highway. As a full-service Freightliner, Western Star, Fuso, Wilson Trailer, Reitnouer Aluminum Trailer dealership family, GTC can sell, finance, insure and service commercial trucks for medium and heavy-duty applications.