Product experts presented an update on the industry leading, Freightliner electric truck program featuring the eM2 class 7 box truck and eCascadia tractor at Freightliner Northwest locations in Pacific, Wash. and Coburg, Ore.
Pacific, WA – April 2021 – For Immediate Release
Daimler Trucks North America (DTNA) electric vehicle team experts hosted the first eMobility Road Show at Freightliner Northwest in Pacific, Wash. on April 13, 2021. The exclusive event featured eM2 and eCascadia ride and drive opportunities for local customers and dealer staff. The DTNA team walked through the truck development and features and addressed questions regarding battery life, maintenance, infrastructure planning and reliability.
Local utility contractor Potelco, Inc. was provided a prototype Freightliner eM2 flatbed to test viability and use for their business needs in February 2021. Potelco has put the eM2 to work each day and it is proving to be beneficial for local transportation of wire, piping, and short-range equipment delivery. The Potelco eM2 was displayed during the Pacific eMobility Road Show event.
Puget Sound Energy (PSE) attended the event and provided information on local energy incentives and infrastructure. The PSE team was knowledgeable and they are committed to helping businesses with electric vehicle transitions and implementations. Carbon reduction and electric transportation is on the forefront of PSE initiatives.
Following the Pacific event, the Road Show moved south, stopping at Freightliner Northwest in Coburg, Ore. on April 23, 2021. Customers and students from the local community college heavy equipment program joined the FNW-Coburg team to learn about the EV trucks through ride and drive opportunities and demonstrations.
We were happy to host events for our customers interested in the electric trucks. Folks were able to ask their questions and get hands on experience with what is developing with electrification. These trucks are tested more rigorously than any other make in the industry and it is exciting to see where electricity will take us and we are proud to be partnered with Daimler Trucks North America as the leaders in eMobility.

Doug Wakefield,  Vice President of Truck Sales
Learn More About Freightliner Electric Trucks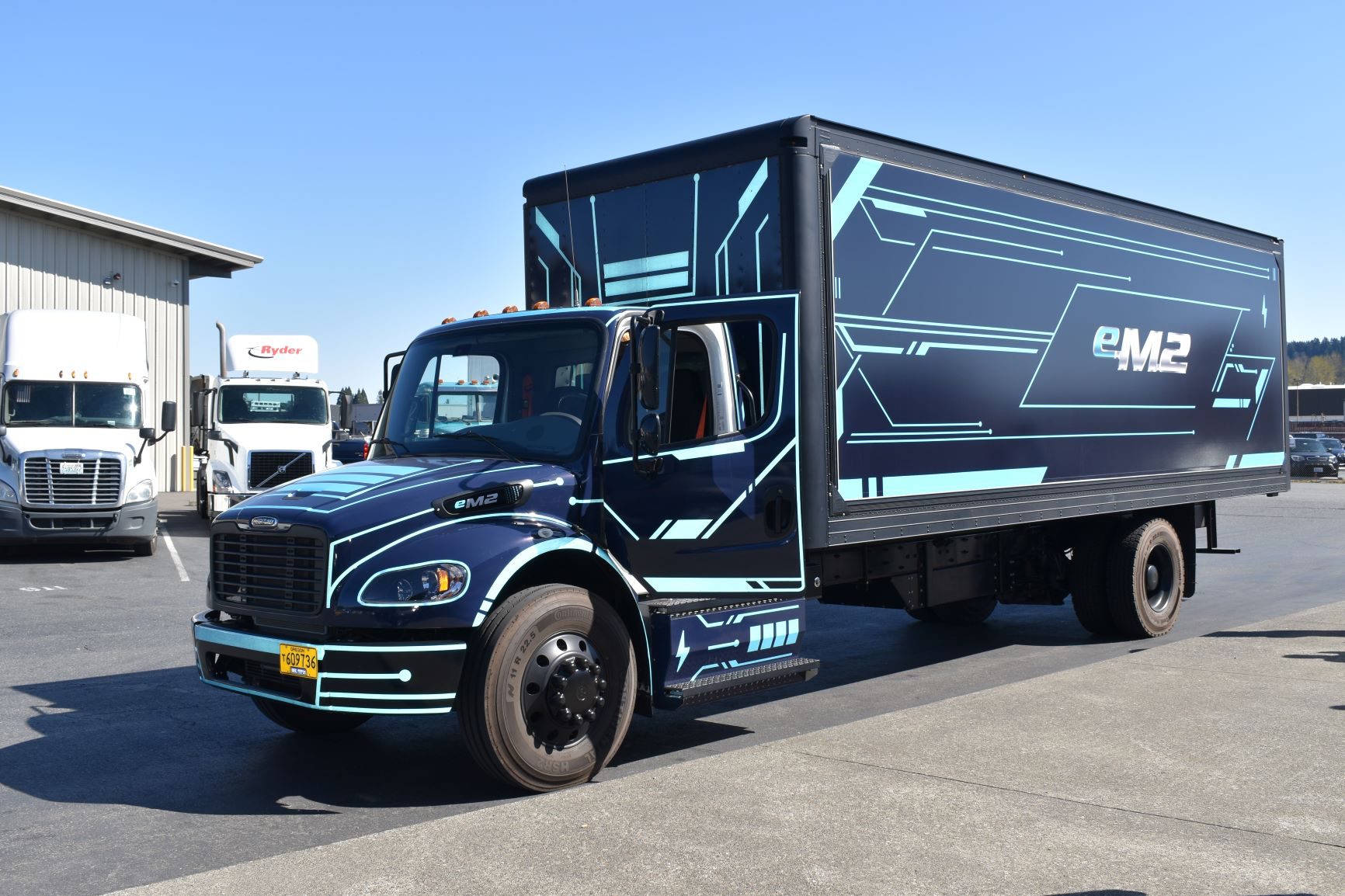 SPECS
| | |
| --- | --- |
| Class | 6-7 |
| Horsepower | 180-300 HP |
| GVWR | 26K-33K |
| Mile Range | 230 |
| Usable Capacity | Up to 315 kWh |
| Recharge | 80% in 60 min |
eM2 – From Electric Avenue To You
Inspired by North America's bestselling medium-duty truck and built on a global platform from Daimler, the Freightliner eM2 is an emission-free EV truck with industry-leading connectivity and technology from Detroit. Ideal for local distribution, the eM2 electric box truck lowers our customer's real cost of ownership, like its heavy-duty class 8 counterpart, the eCascadia.
Features & Facts
All-Electric Detroit ePowertrain
Rapidly Approaching 1 Million Tested Miles
eConsulting – Training, Infrastructure & Support
Reduced Driver Fatigue, Increased Visibility and Driver Comfort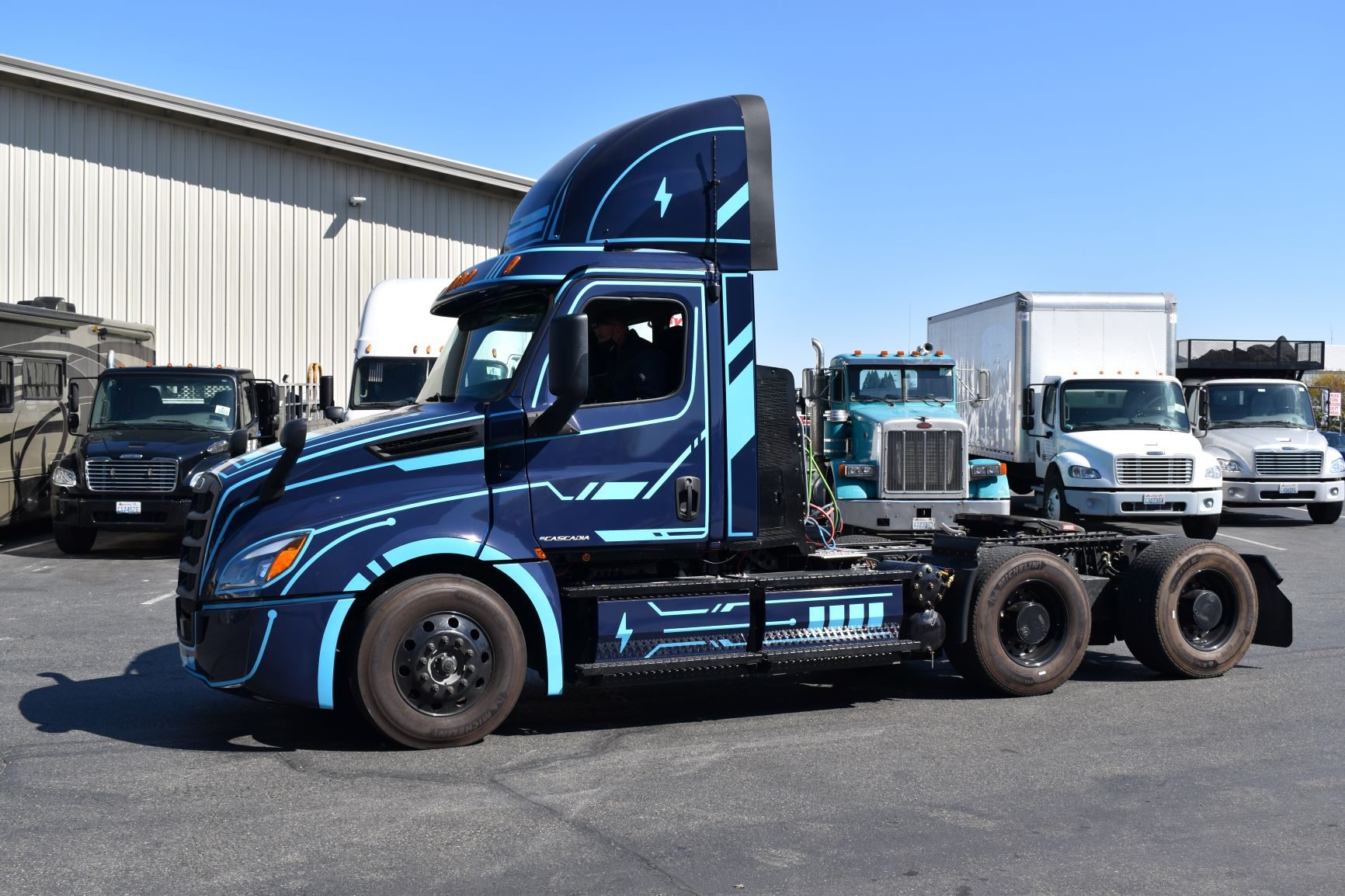 SPECS
| | |
| --- | --- |
| Class | 8 |
| Horsepower | 360-525 HP |
| Max GCW | 82,000 |
| Mile Range | 250 |
| Usable Capacity | Up to 475 kWh |
| Recharge | 80% in 90 min |
eCascadia – Built On A Legend
The Freightliner eCascadia electric semi truck is a 100% battery electric Freightliner Cascadia with the efficiency, safety and aerodynamics that make it worthy of its name. With an 80Klb GVW, the eCascadia is perfect for short-haul, last-mile logistics, with the superior performance, comfort and driver experience you'd expect, all in a truck that makes great business sense.
Features & Facts
All-Electric Detroit ePowertrain
Rapidly Approaching 1 Million Tested Miles
eConsulting – Training, Infrastructure & Support
Detroit Assurance Safety Technology
Sustainability Goals, Achieved
Additional Freightliner Electric Truck information can be found at www.freightliner.com.
The Freightliner Northwest sales team is now working with customers on a limited basis, to place orders for eMobility vehicles for 2022. Visit www.FreightlinerNorthwest.com for a dealership near you.
eMobilty Road Show Photo Gallery




About Gordon Truck Centers, Inc.
Since 1986 Gordon Truck Centers, Inc. has helped customers satisfy their transportation and commercial truck needs in the Pacific Northwest. GTC is an expanded network of dealerships doing business as Freightliner Northwest, Western Star Northwest, and Freightliner of Hawaii. The Dealership Family has 14 locations off nearly every major highway throughout Washington, Oregon, Idaho and Hawaii. As a full-service Freightliner, Western Star, Wilson, Jet and Excel Trailer dealership family, GTC sells, finances, insures and services commercial trucks for medium and heavy-duty applications.