Freightliner's Hardest Working Cities and Valley Freightliner, Inc. teamed up to host an open house and award presentation for Seattle-Tacoma's hardest workers.
The event included surprise jobsite visits, food trucks, speaker Senator Pam Roach, and NHRA's John Force & Matt Hagan!
How Seattle-Tacoma was Chosen
After an extensive review of nearly 400 metropolitan census areas, Seattle-Tacoma was chosen as one of the Nation's Hardest Working Cities based on eleven different criteria. Some of the statistics measured for the award were; average work hours per household, construction employment, and contribution to total GDP. Local freightliner dealer Valley Freightliner, Inc., was invited to participate by hosting the award ceremony at the Pacific, WA dealership.
Here's how the event unfolded…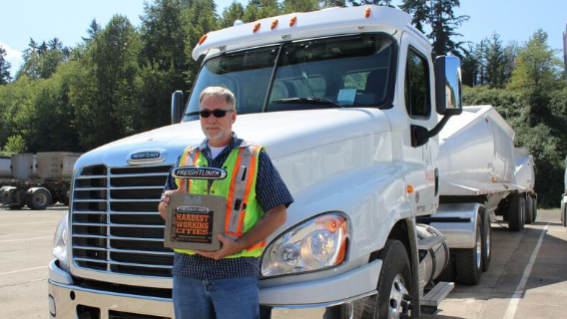 August 3rd – Jobsite Visits
The Hardest Working Cities crew along with the Valley Freightliner, Inc. team, travelled to three customer locations across the region. Workers at each location were served a meal and received giveaway items as a gesture of thanks for fueling our economy with their hard work. The first surprise stop took place at an electric utility construction company, Potelco. Breakfast and gear were handed out to many hard workers as they started their day. The next stop was Food Services of America where workers received sandwiches, cold beverages, and Hardest Working Cities gear during the lunch hour. The final stop commenced at Miles Sand and Gravel and concluded the day with a meal and giveaway gear for the crews as they returned to the shop after a long day of hard work.
"It has been an honor for Seattle-Tacoma to receive the 'Hardest Working Cities' title," said Alex Bernasconi, General Manager, Valley Freightliner. "Celebrating this achievement with some of our hardest working customers was a perfect tribute to the sustainability and economic growth in our region."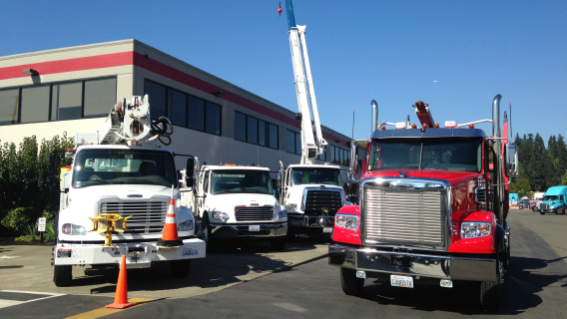 August 4th – Open House & Award Presentation
Valley Freightliner, Inc. and Freightliner's Hardest Working Cities hosted the open house and award presentation at the VFI Pacific location. The event was held from noon to 3pm and featured meals for all guests from Stacks Burgers and Papa Bois food trucks. Vocational trucks were on display from VFI customers WSDOT, Gensco, Potelco, Boeing, and American Forest Lands Logging. NHRA Funny Car drivers John Force and Matt Hagan took photos and signed autographs with customer fans throughout the event and Senator Pam Roach received the Hardest Working Cities trophy on behalf of the Seattle-Tacoma area.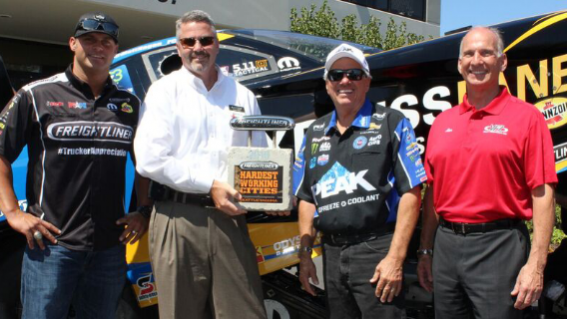 Check out more event photos!      Open House / HWC Event Photos
Be sure you get the latest VFI news! Sign up for our newsletter below.