Freightliner Northwest Pacific took in four Walter Snow Plow trucks as trades from a local airport. One of the four wheel drive trucks has moved on to become a valuable asset to the management of an important Alaskan ice road.
The 1983 truck purchased from FNW-Pacific, has now plowed 130 miles of ice road located north east of Bethel Alaska on the Kuskokwim River. The truck has been named, "Tumlista" by its operators which means, "The one who makes a trail" in the local Yupik Eskimo language. Many of the hardworking folks who build and maintain the Kuskokwim River ice road are volunteers from local tribal governments and other organizations and their previous plow equipment was fifty three years old.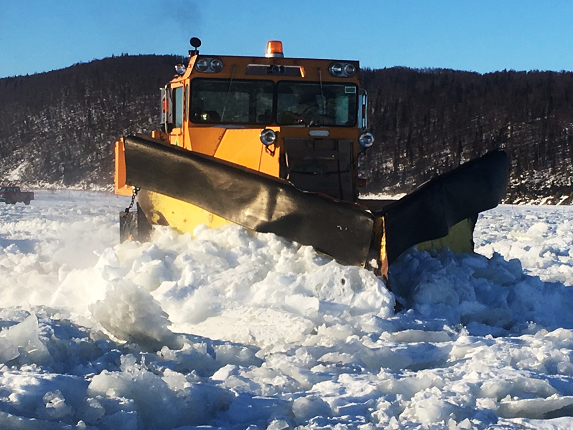 The plow featured on the truck and installed by Shorty's Shop in Bethel, AK, has been passed down from previous ice road constructors and it is unknown exactly how many trucks have pushed the plow.
"Unlike the ice roads seen on TV, we don't have heavy industry behind us with funding for our road," said Mark Leary, part of the local group trying to make life safer and cheaper for the people along the river. "The 1983 truck we got from you is like brand new for us!"
The Kuskokwim River ice road covers 250 miles and connects approximately 15,000 people. There are no other roads in the region and without the ice road, the local population must depend on costly airplanes to move people and freight. The funding for the purchase of Tumlista was provided through the Federal Highways Tribal Transportation Program and there is a local need for continued support. Click here to learn more information about the Kuskokwim River ice road.
Freightliner Northwest is proud to have been able to help the Kuskokwim River ice road maintenance crew and we wish them safe trucking!
Additional Kuskokwim River ice road information can be found at http://kyuk.org/post/ice-road-well-marked-bethel-kalskag
About Gordon Truck Centers
Built upon a 30 year history of helping customers satisfy their transportation needs, Gordon Truck Centers, Inc. is an expanded network of dealerships doing business as Freightliner Northwest, Western Star Northwest, and Freightliner of Hawaii. The Dealership Family has 12 locations located off nearly every major highway throughout Washington, Oregon and Hawaii. As a full-service Freightliner, Western Star, Fuso, Wilson Trailer, Reitnouer Aluminum Trailer dealership family, GTC can sell, finance, insure and service commercial trucks for medium and heavy duty applications.